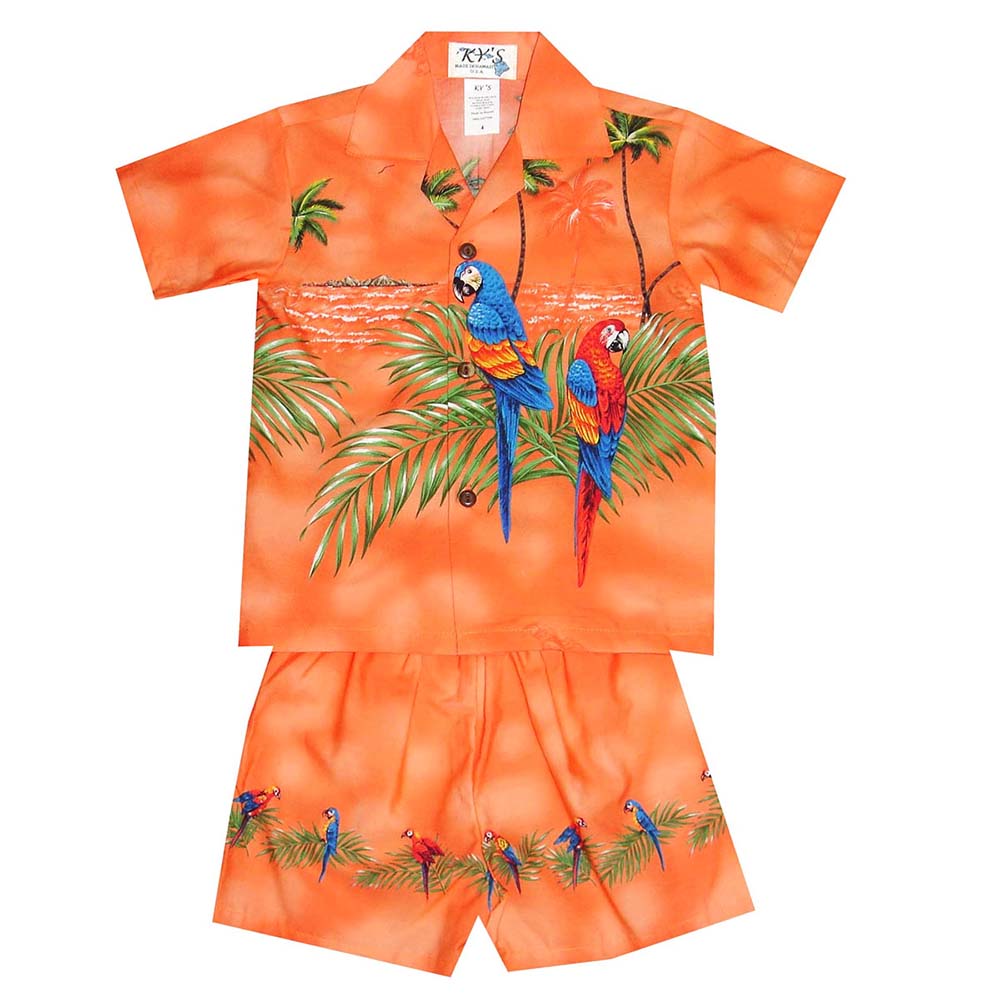 Boy's Hawaiian Shirt & Shorts Sets
Help bring the relaxed Aloha spirit into your son's life with Boy's Hawaiian Shirt and Shorts Sets from Aloha FunWear. These matching shirt and short sets are perfect for busy kids and parents, because you'll always be able to pick out the matching outfit no matter how cluttered your son's closet becomes. Matching shirt and short sets are also an easy way to help little boys get used to choosing clothing that pairs well together and are ideal for the development stage when your child begins to want to dress themselves.

Next time you go on a family vacation, your son will love embracing the fun vibes with a Boy's Hawaiian Shirt and Shorts Set. Matching sets are also a perfect choice for school pictures, family barbeques, family photography sessions or any other occasion. Dress your son in a Fishy Time Blue Boy's Hawaiian Shirt and Shorts set to help him get into the fun summertime mood. For the more fashion-forward child, an Island Little Prince Blue Boy's Hawaiian Shirt and Shorts set is a very mature and stylish choice. If your little boy loves sea animals, then he'll adore a Turtle Time Blue Boy's Hawaiian Shirt and Shorts set to wear to school and show all of his friends. Whichever matching boy's shirt and shorts set you choose, your little one is going to love the fun prints, bright colors and comfortable fit of a Boy's Hawaiian Shirt and Shorts Set from Aloha FunWear.

We've been the go-to provider of high-quality island wear since 1999, and it's no wonder why. All of our clothing is made from the best fabrics around, and is lovingly stitched to stand up to being worn over and over again, because we know that anything from us will quickly become one of your favorite wardrobe pieces. Our Customer Support Team is second-to-none; should you want to place your order over the phone, have a question about a product or need to make a special request, they'll be happy to help you over the phone at 1-800-594-8798. If you want some more ideas on how to incorporate island style into your ensembles, stay tuned to our blog for fun and informative articles.