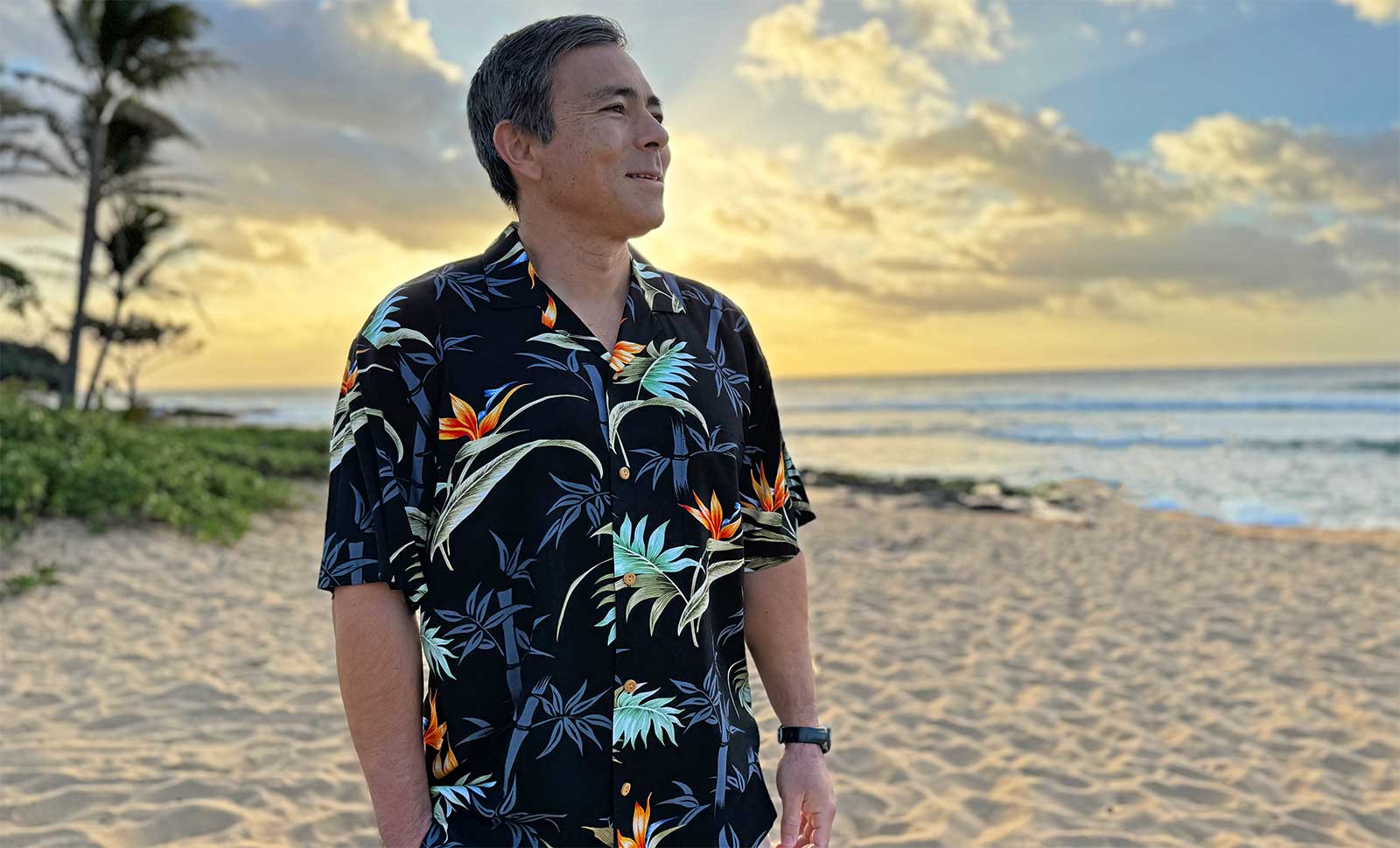 Premium Rayon Hawaiian Shirts
Our collection of 100 percent premium rayon Hawaiian-style shirts for men, or "aloha style" as we call them in Hawaii, has the ease and the comfort of your most lived-in loungewear but with the polished, sophisticated look of buttoned-down elegance. Our versatile shirts can be worn anywhere - from a casual evening luau with friends or Aloha Fridays at work, to those occasions that call for a dressier wardrobe, like weddings or work functions. The crisp lines of the collars, sleeves and hemlines add a touch of class so you will never be underdressed for any function and you will have an air of confidence and style!

Our men's rayon Hawaiian-style shirts will become your new favorites and the relaxed-fit might be so comfortable that you will never want to wear anything else! And lucky for you, we have enough prints to allow you to wear a different shirt every day of the month! These sophisticated resort wear shirt prints feature scenes that capture the heart, soul and pono (rightness and balance) of our great Islands - from bright all-over floral and scenic prints to retro panel, border and engineered shirts featuring an array of images that will transport you right back to the beaches, the green mountains and the exquisite balminess of our sun-kissed breezes. Let the tropical themes - pineapples, gardenias, hibiscus flowers, flamingos, hula dancers and palm fronds - put you in an island frame of mind.
Allow our 100 percent rayon shirts express your personality! Do you like to have fun and show off your personality in the colorful Magnum P.I. shirt worn by Tom Selleck? Do you enjoy the classic prints that are reminiscent of the Hollywood greats like Ernest Borgnine or Frank Sinatra? Choose from our variety of prints - you will be the envy of your peers. All our resort wear shirts have buttons that are lovingly made from one of the Aloha State's most famous exports - coconuts! The rayon is easy care comfort - just wash and go. There is something for every man with our rayon Hawaiian-style shirts from Aloha FunWear!