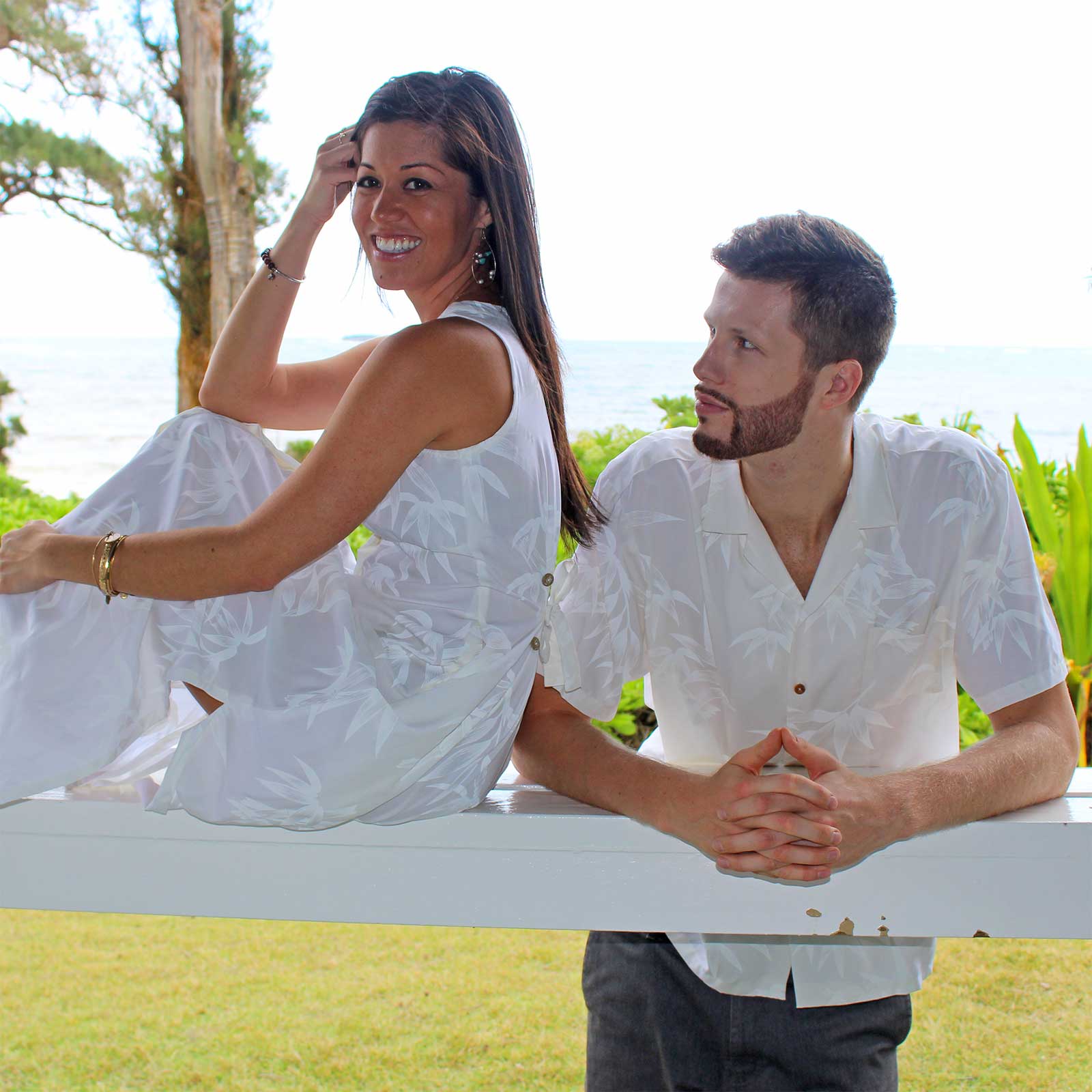 Hawaiian Wedding Dresses & Shirts

Looking for an alternative to traditional church wedding ceremonies? Beach weddings and Hawaiian weddings are growing in popularity and are a festive way to kick off the next chapter of your life. After all, you're a match made in heaven - why not get married in paradise? AlohaFunWear.com can help put the fun into your special day with our selection of Hawaiian-style wedding dresses and shirts for everybody in your wedding party. These white-on-white Hawaiian print clothes offer the elegance a ceremony deserves in a look that's less formal and stuffy. And better yet, our dresses and shirts are affordable so you have money left over for a fabulous beach honeymoon!
A casual beach wedding dress or muumuu for the bride and a Hawaiian wedding shirt for the groom are a stylish way to watch down the aisle. Many couples choose matching Hawaiian wedding clothing with a set of white prints for themselves and something a little more colorful for the bridesmaids and groomsmen, but you order whatever you want for this important day. Our beach wedding dresses are made in Hawaii and include white ruffle Hawaiian dresses, tail-cut dresses, hibiscus muumuus and spaghetti dresses. Add a garden white or hibiscus panel wedding shirt with free shipping on orders over $75 and you'll be the perfect-looking couple for a beach or garden wedding.
Better yet: if you order for your entire wedding party at the same time, then the wedding dress or muumuu is free! Just order a wedding shirt for the groom and at least two dresses and two shirts for the wedding party and then add one of our beach wedding dresses. When you type "Akamai Wedding Pack" into the Comments field during checkout, we'll automatically make the wedding dress cost $0! We know it's easier to enjoy the carefree love and positive outlook of an Aloha wedding when you don't have to worry it breaking your bank account. So focus on the rest of your life while living for the present with our Hawaiian wedding attire!