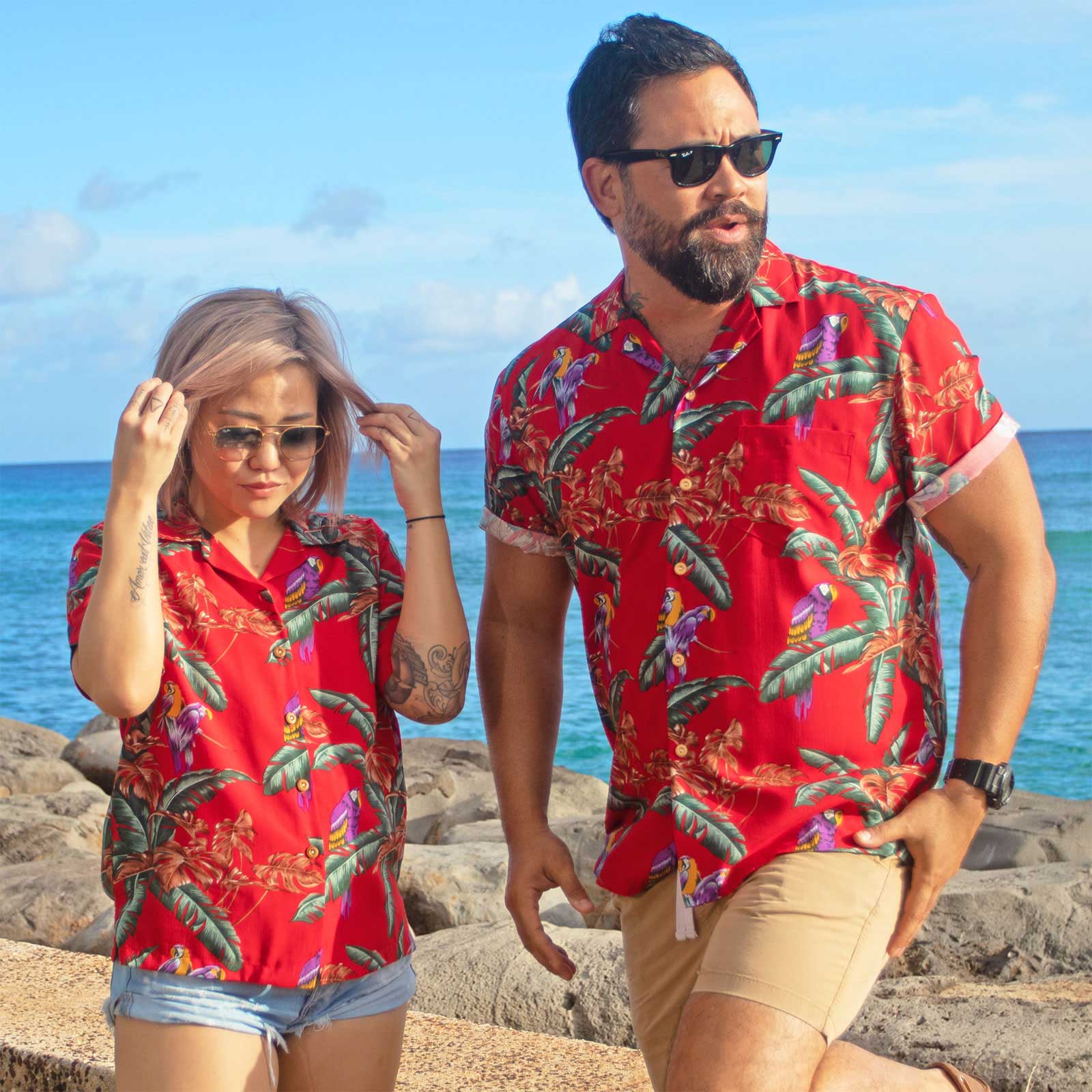 Magnum PI (All Prints) Matching Hawaiian Shirts and Dresses
Now you can wear what has been coined the "most famous Hawaiian print" in the world - thanks to this pop-culture icon, Thomas Magnum, who took super sleuthing to a new level each week on this popular weekly 1980s television show. Magnum's famous Jungle Bird shirt has even been inducted into the Smithsonian Museum, making it the most famous Aloha-style shirt ever!
Cool, Comfortable ... Wacky?

Our original Magnum PI shirt in the Jungle Bird print is everything you hope it would be: cool, comfortable and vibrantly colorful. This bright and bold - and even a tiny bit irreverent - style is almost instantly recognizable the world over and is most definitely not for wallflowers! Personalize your wow factor by choosing from either a red or black background.

This pattern doesn't even pretend to be subtle: The vivid red print features verdant greenery and wildlife with its green and orange palm fronds as well as striking purple parrots. The black print displays bright purple and green palms with red and orange parrots. These fun styles are guaranteed to add color to your wardrobe and a spirited energy to your soul!

Kane & Wahine Styles

We've created a wide variety of styles from this vivacious print for both our kane and wahine friends - now everyone can enjoy its delightful color and motif! Ladies can choose from several styles of dresses including the comfortable and beachy sarong-style dress, the spaghetti strap dress and the classic tank-style dress. Each of these dresses is made from 100 percent rayon. If she prefers a V-neck blouse, she may opt for our ladies' Magnum PI V-neck blouse made with real bamboo buttons and 100 percent rayon, for a whisper-soft feel on the skin.

The men's original Magnum PI shirt styles are available in a comfortable, generous-cut style that won't disappoint. Coordinate your couple's wardrobes for a matching his and hers look with our Hawaiian shirts to add a fun twist to date night at the local tiki bar! This 100 percent rayon all-over patterned style has a matched pocket and genuine coconut buttons.

Made with Pride

Our premium-quality Magnum PI Hawaiian-style shirts are all made with Island pride in Hawaii.