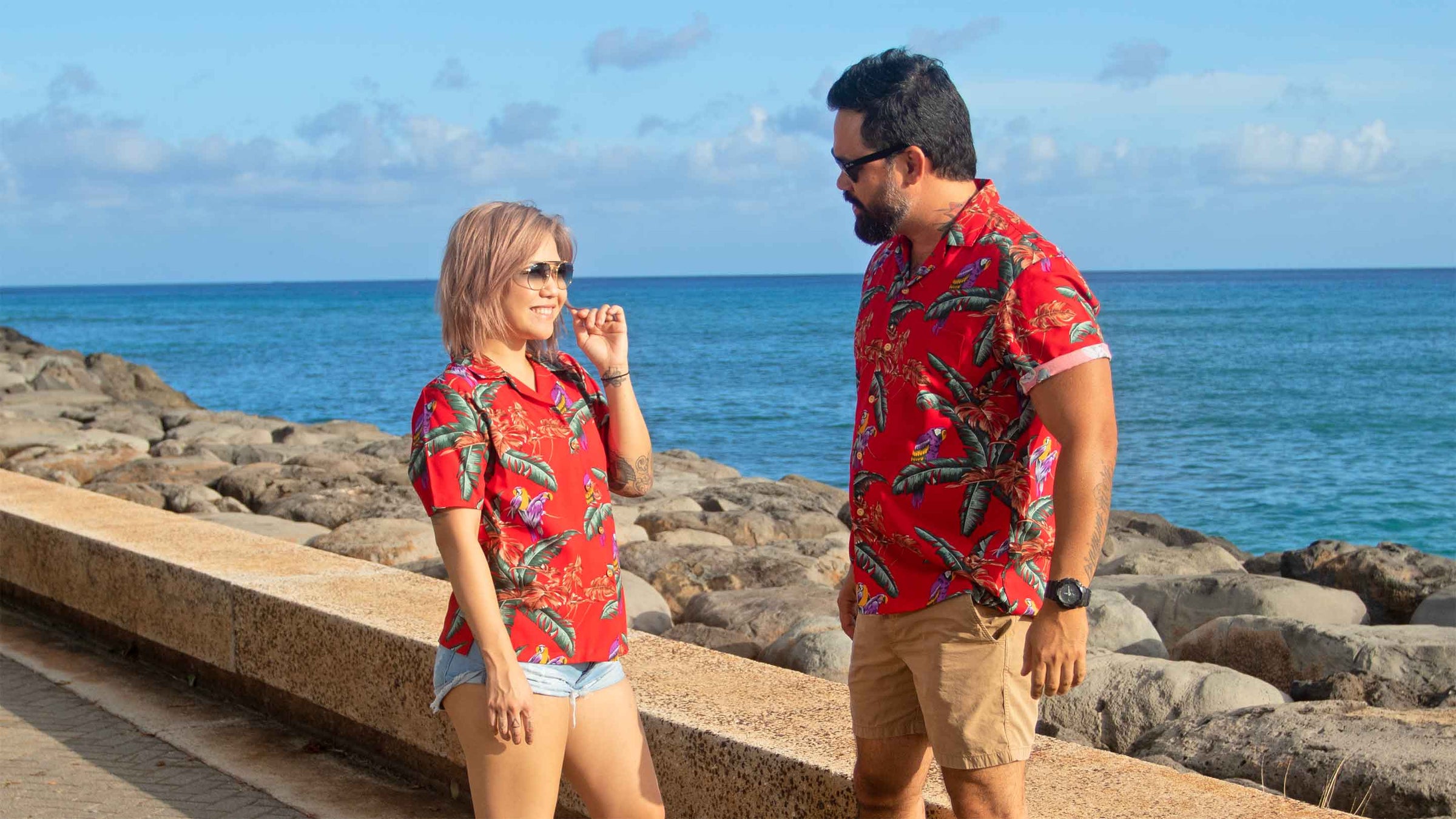 Matching Hawaiian Shirts & Dresses
Nothing says romance like a vacation getaway together on a remote and relaxing white sandy beach. Moonlit strolls along the sand, dinners by the sea, waking up to smell the ocean breeze drifting into your room through the lightly blowing curtains - there's nothing quite like it. Celebrate this unforgettable feeling while proudly showcasing your love and commitment to one another without saying a word with matching Hawaiian shirts and dresses. These beautiful matching sets from Aloha FunWear are the perfect choice for loving couples who want to highlight their adoration for each other. 


Matching Hawaiian shirts and dresses are ideal for a number of occasions. Use them as a unique and beautiful wardrobe selection for your engagement photo session, wear them to a special anniversary dinner or show up to the neighborhood barbeque looking your very best. A Parrot Island Hawaiian Shirt and Dress combo is perfect for a summer evening party and will instantly put a smile on everyone's faces. Big Hibiscus Matching Shirts and Dresses are a bold and elegant way to make a statement with your matching ensembles and are a great choice for birthday parties or dinner out on the town. For that extra-special day when you want to profess your love for one another in front of friends and family, there are Wedding Flower Matching Hawaiian Shirts and Dresses. Whichever matching Hawaiian shirts and dresses combination you select, you're guaranteed to receive only the highest-quality garments from Aloha FunWear, the experts in island fashion since 1999.

Want to find out more about the fit of our Hawaiian shirts and dresses? Need to place a rush order so that your items arrive before an upcoming romantic getaway? Give our helpful Customer Support Team a call at 1-800-594-8798, and they'll be happy to assist. If you want to stay up-to-date with all things related to Hawaiian fashion, head over to our blog for some informative and entertaining articles.