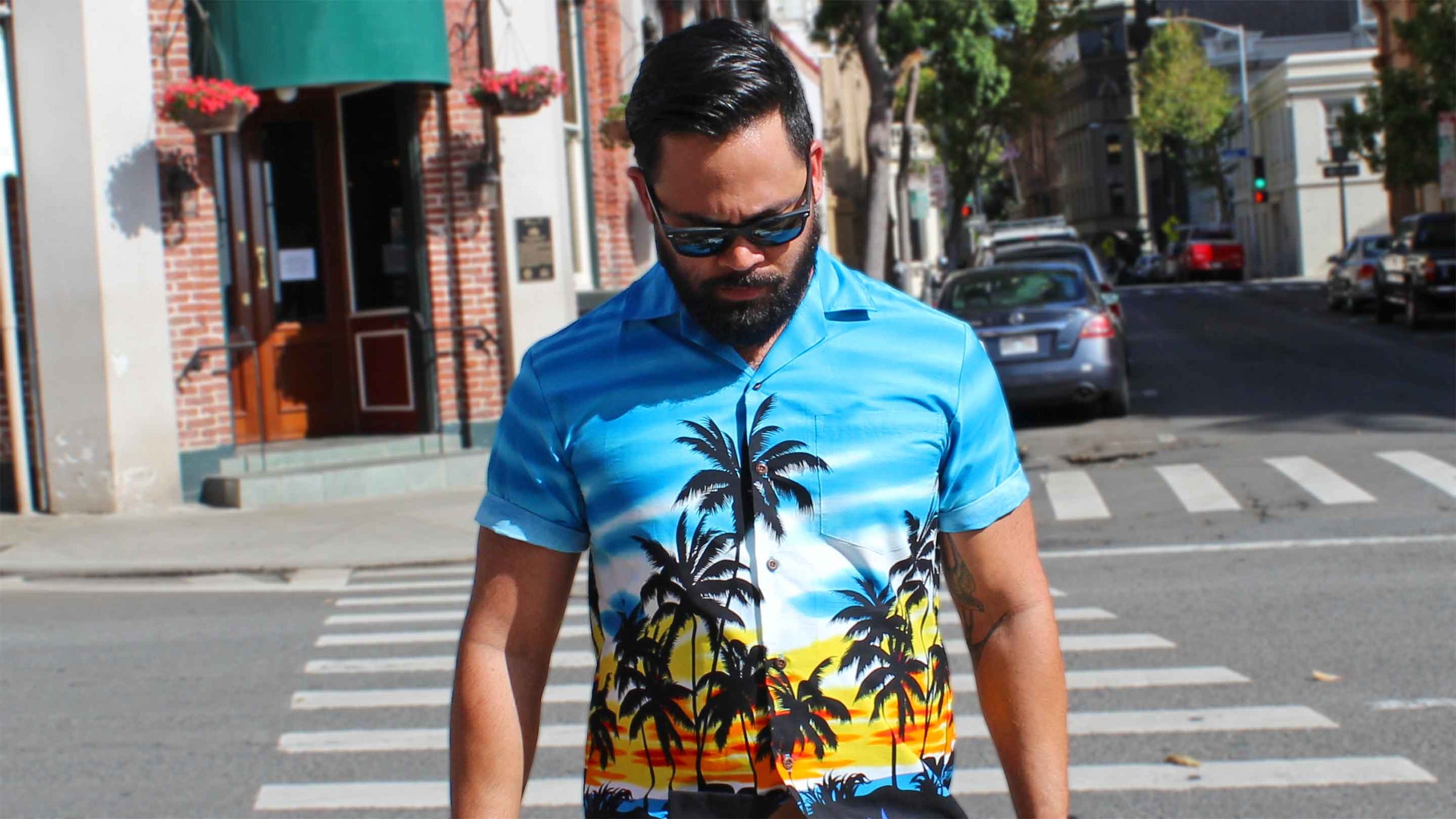 Engineered & Border Print Hawaiian Shirts
Because of the extensive tailoring needed, engineered border-style men's Hawaiian shirts were once considered a luxury item because of the amount of material used when manufacturing them. Great skill and care was needed to meticulously sew these shirts so that the image would be seamlessly matched across the front. Designs - which ranged from fun to classic - were thoughtfully created and produced, and painstaking measurements were taken so that the sides, hems and sleeves were identical. The pockets sometimes perfectly matched the shirt's pattern and its design tended to be longer. Today, modern advances have ensured that all the unique features of engineered border-style shirts are still present in their design and construction. Great skill and experience of the design artist is still crucial in making sure that the beginning and the end of the shirt's design is not distinguishable as the pattern repeats.

We continue to make each shirt with love, but at a more accessible, affordable price. These men's Hawaiian-style shirts are now available to everyone who wants to possess a piece of the aloha lifestyle! These 100 percent cotton button-up shirts from Aloha FunWear will become your new favorites! You will want to live in the comfort and fun of the colorful, festive prints that are designed to put you in the island frame of mind. The buttons on these shirts are made from coconuts and the vivid, brilliant colors and designs are reminiscent of spirit, soul and pono (rightness and balance) of our beloved Aloha State.
The crisp hems, collars and sleeves - as well as the classic button-up designs - are perfect for any occasion, from Aloha Friday's business casual at your office to functions that call for a more formal dress. Each of our engineered Hawaiian-style shirts are home-grown and are an authentic, made-in-Hawaii item. This means that every time you wear a men's 100 percent cotton, engineered-border shirt from Aloha FunWear, you are wearing genuine aloha wear! You can be confident that the spirit of the Islands go into each of our engineered shirts. Quality construction, skilled artistry and meticulous craftsmanship will make your engineered border-style Hawaiian shirt from Aloha FunWear a favorite for years to come!